Spare Parts and Tyre Search
Viewed products
Constructed from an innovative...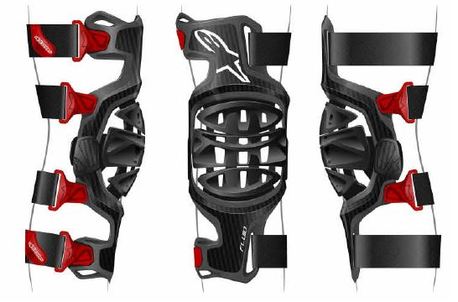 View larger
Alpinestars Binoic 10 Carbon Knee brace höger

Constructed from an innovative advanced carbon polymer compound for improved strength and performance, the Bionic 10 Carbon Knee Brace helps reduce the risk and severity of injury by preventing excessive hypertension of the knee in an accident. Thanks to innovative engineering the Fluid Tech is ultra-lightweight and offers a highly customizable and secure fit, while affording improved directional movement of the knee articulation while riding.
Not specified
More info
• Knee pivot system: new double-pivoting hinge system incorporating tool-free, fast, easily exchangeable extension stops (0, 5, 10, 15, 20, 25 and 30 degrees) to prevent hyper-extension injuries.
• Available in four sizes and featuring a lightweight hybrid frame construction of carbon composite cores over-injected with an advanced fibre reinforced polymer.
• The new patented lightweight and highly ventilated double-wall knee-cup system offers strong impact force dispersion and absorption whilst ensuring maximum coverage area in all riding positions.
• The ergonomically sculptured knee cup is constructed from a triple segmented polymer for flexibility and adaptivity that is backed with light padding for highest comfort.
Data Sheet
Combinations
Compatible with
Dimensions
| | |
| --- | --- |
| Bar code | 696-6500319-13 |
| Unisex | Unisex |
| Manufacturers product code | 6500319-13-S |
| Bar code | 8033637210827 |
| Unisex | Unisex |
| Manufacturers product code | 6500319-13-M |
| Bar code | 8033637210834 |
| Unisex | Unisex |
| Manufacturers product code | 6500319-13-L |
| Bar code | 8033637210841 |
| Unisex | Unisex |
| Manufacturers product code | 6500319-13-XL |
| Bar code | 8033637210858 |
| Unisex | Unisex |
| Benämning | Produktkod | Pris |
| --- | --- | --- |
| Alpinestars Binoic 10 Carbon Knee brace höger S - 696-6500319-13-1 | 696-6500319-13-1 | 3 895,00 kr |
| Alpinestars Binoic 10 Carbon Knee brace höger M - 696-6500319-13-2 | 696-6500319-13-2 | 3 895,00 kr |
| Alpinestars Binoic 10 Carbon Knee brace höger L - 696-6500319-13-3 | 696-6500319-13-3 | 3 895,00 kr |
| Alpinestars Binoic 10 Carbon Knee brace höger XL/2XL - 696-6500319-13-4 | 696-6500319-13-4 | 3 895,00 kr |