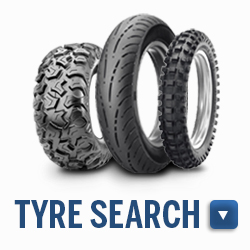 Spare Parts and Tyre Search

Viewed products
The Termior Helmet is not only...
View larger
Tobe Terminator Helmet, Stripe White/Black
The Termior Helmet is not only exceptionally light, but also innovative. It is constructed out of a high-performance composite fiber and weighs in at 1070 grams (2.36 lbs). Built with safety in mind, this helmet has the Airoh Emergency Fast Remove (A.E.F.R) system, which allows for quick removal of the cheek pads in emergency situations and a DD ring closure system. The Termior Helmet has vents on the front, top, chin guard and rear of the helmet to allow fresh air in and warm air out. The Termior Helmet's lining is removable, allowing for easy washing and care.
More info
Shell: High Performance Composite
Weight: 1070g
Sizing: XS – 2XL (size chart below)
Warranty: 1 Year

Performance
•\tECE R22-05 approved
•\tLightweight helmet
•\tDD ring closure
•\tHigh breathability lining
Construction

•\tRemovable and washable lining
•\tEmergency cheek pad release system
•\tExcellent ventilation system
•\tExtended peak accessory included
•\tHand crafted in Italy

Size Chart - CM
•\tXS - 53-54
•\tS - 55-56
•\tM - 57-58
•\tL - 59-60
•\tXL - 61-62
•\tXXL - 63
Data Sheet
Combinations
Compatible with
Dimensions
Type
Offroad
Brand
Tobe
Type
Offroad
Brand
Tobe
Type
Offroad
Brand
Tobe
Type
Offroad
Brand
Tobe
Type
Offroad
Brand
Tobe
Type
Offroad
Brand
Tobe
Type
Offroad
Brand
Tobe
| Name | Reference | Availability | Delivery date | Size | Bar code | Price |
| --- | --- | --- | --- | --- | --- | --- |
| Tobe Terminator Helmet Stripe White/Black XS - 632-6120-502-0 | 632-6120-502-0 | In stock | | XS | 8029243316688 | 3 595,00 SEK |
| Tobe Terminator Helmet Stripe White/Black S - 632-6120-502-1 | 632-6120-502-1 | In stock | | S | 8029243316695 | 3 595,00 SEK |
| Tobe Terminator Helmet Stripe White/Black M - 632-6120-502-2 | 632-6120-502-2 | In stock | | M | 8029243316701 | 3 595,00 SEK |
| Tobe Terminator Helmet Stripe White/Black L - 632-6120-502-3 | 632-6120-502-3 | In stock | | L | 8029243316718 | 3 595,00 SEK |
| Tobe Terminator Helmet Stripe White/Black XL - 632-6120-502-4 | 632-6120-502-4 | Out of stock | | XL | 8029243316725 | 3 595,00 SEK |
| Tobe Terminator Helmet Stripe White/Black 2XL - 632-6120-502-5 | 632-6120-502-5 | Out of stock | | 2XL | 8029243316732 | 3 595,00 SEK |